KUALA LUMPUR, 17th MAY 2019 –  Q3 Management Solution Sdn Bhd will be hosting this year "The Malaysia Employment Law Conference 2019" at Aloft Hotel, KL Sentral on July 3rd 2019 and July 4th 2019. With MyFreelys Academy as the organizer as well as JobCircle.my and IRLaw.my as the official partners for this event.
Ready in dedicating learning and development conference which are platform for HR Practitioner, the event will be featuring a mix of key speakers to deliver interesting topics.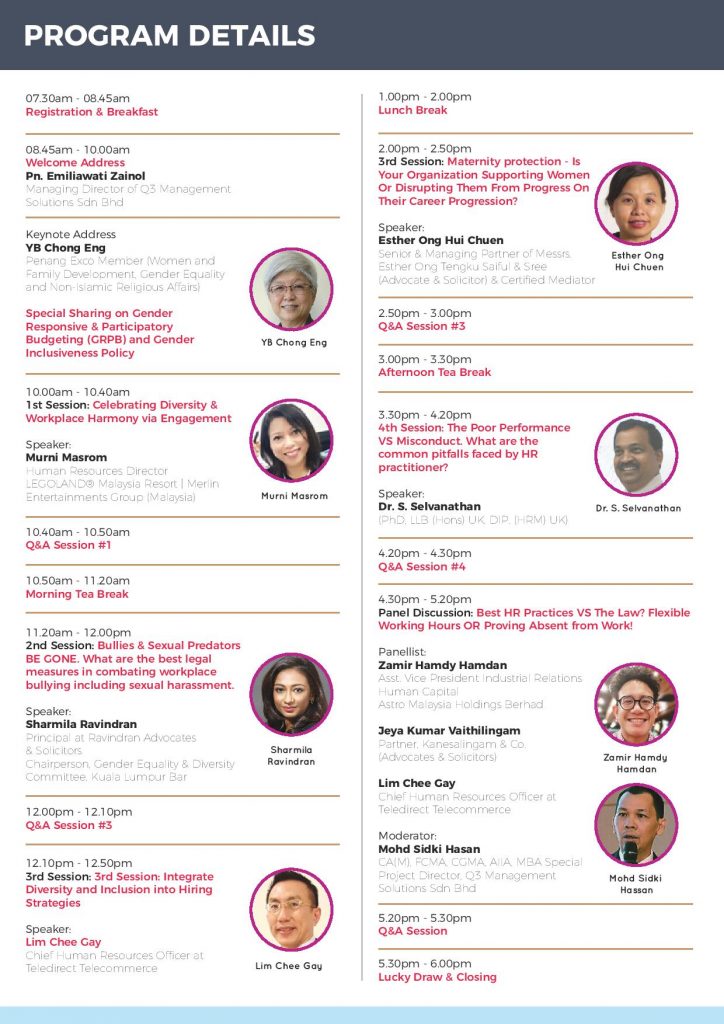 Some of the key speakers to attend the conference on July 3rd 2019 are YB Chong Eng (Penang Exco Member), Murni Masrom (HR Director of LEGOLAND Malaysia Resort), Sharmila Ravindran (Principal at Ravindran and Solicitors Chairperson, Gender Equality and Diversity Committee at Kuala Lumpur Bar), Lim Chee Gay (Chief Human Resources Officer at Teledirect Telecommerce), Dr.S. Selvanathan, Zamir Hamdy Hamdan (Assistant Vice President Industrial Relations Human Capital of Astro Malaysia Holdings Berhad) and Mohd Sidki Hasan (Former Director of the National Human Resource Centre (NHRC) and Human Resource Development).
The seminar will be covering topics on special sharing on Gender Responsive and Participatory Budgeting (GRPB) and Gender Inclusiveness Policy, Celebrating Diversity and Workplace Harmony via Engagement, Best legal measures in combating workplace bullying including sexual harassment, Integrate Diversity and Inclusion into Hiring Strategies, Maternity Protection- "Is your organization supporting women or disrupting them from progress on their progression?", " The poor performance VS Misconduct, "what are the common pitfalls faced by HR practitioner?", and "Best HR Practices Vs the Law? Flexible Working Hours OR proving absent from work!".
The workshop on July 4th 2019 will be conducted by two very well-known speaker Dr. S. Selvanathan and Mr Jeya Kumar Vaithilingam.
Dr. S. Selvanathan who has over 25 years of experience in the area of Human Resource and industrial Relations Management will be covering the topic of 'Managing Difficult Employees at Workplace' and Mr. Jeya Kumar Vaithilingam will be covering the topic of 'Getting Wrongful Dismissal Claims Right in the Industrial Court'.
For more information, please visit www.irlawconference.my today!
Article written by: Amir Farhan Bin Mohd Shaiful Bahrun