The summit featured a host of relevant sessions, including three panel discussions and networking amongst HR Practitioners , CEOs, Managing Directors, Partners and Business Owners of SMEs across the nation.
Organized by MyFreelys Academy, this is the third HR Summit & Networking Event since its inception in 2017. It was hosted by Kakitangan.com, a home-grown HR technology company that specializes in online HR Software for Malaysian businesses that helps handle payroll, claims, benefits, leave management and more.
Featuring a stellar line-up of key speakers and panellists, this event served as a platform for discussion amongst HR practitioners in encouraging learning and development. During the summit, many HR's and Business' best kept practices and secrets were shared.
Amongst the contributors to the discussion are:
Effon Khoo (Founder, Kakitangan.com)
Professor Dr. Lee Kah Ling (Associate Professor, Inti International University)
Tan Thiam Hock (The brand creator, SILKYGIRL)
Justin Lee. (Lawyer, Industrial Relations Field)
Malek Ali (Founder, BFM 89.9 and Co-Founder, Fi-Life)
Clarence Leong (CEO, EasyParcel)
Chau Yap (Group Executive Chairman, YYC Group)
Whei Meng (CEO, SpeedRent)
Ray Teng (Founder, MauKerja)
Leo Lee (CEO, TraitQuest)
Wilson Beh (C0-Founder, PolicyStreet)
Khor Xin Yun (CEO, Walnut Wellness)
YK Lai (Group Managing Director, HR Circle Group of Companies)
The Summit provided great opportunities for networking, and was powered by a host of sponsors, partners and exhibitors.
Through the HR Summit, Kakitangan.com seeks to stimulate and facilitate the spirit of real important HR work such as:-
Keeping your great people engaged and motivated
Help everyone to perform better
This is also in support of efforts by the Ministry of Human Resources in accrediting and training HR professionals in Malaysia.
Effon Khoo, the Founder at Kakitangan.com kicked off the Summit with his Opening Keynote address , sharing on the upcoming HR and Banking Technology Road-map by Kakitangan.com and RHB Bank.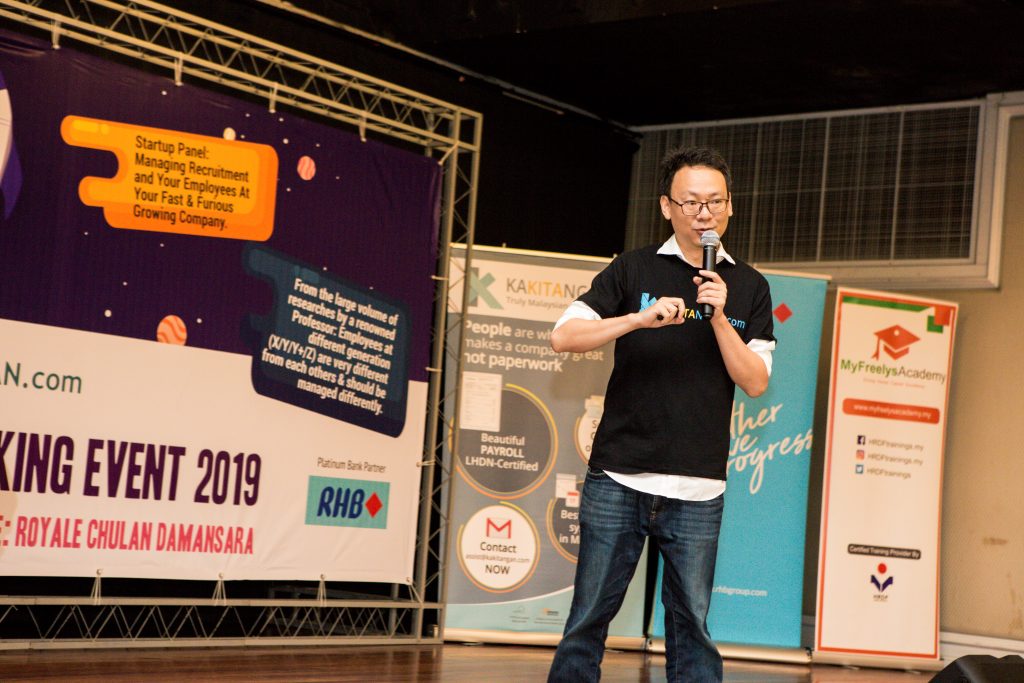 This was followed by Muhammad Yusriarif and Lee Wai Seng from RHB Group, who shared on how RHB as a bank can support the efforts of building sustainable businesses.
The summary of these sharing sessions are recorded in an infographic by SketchPost below.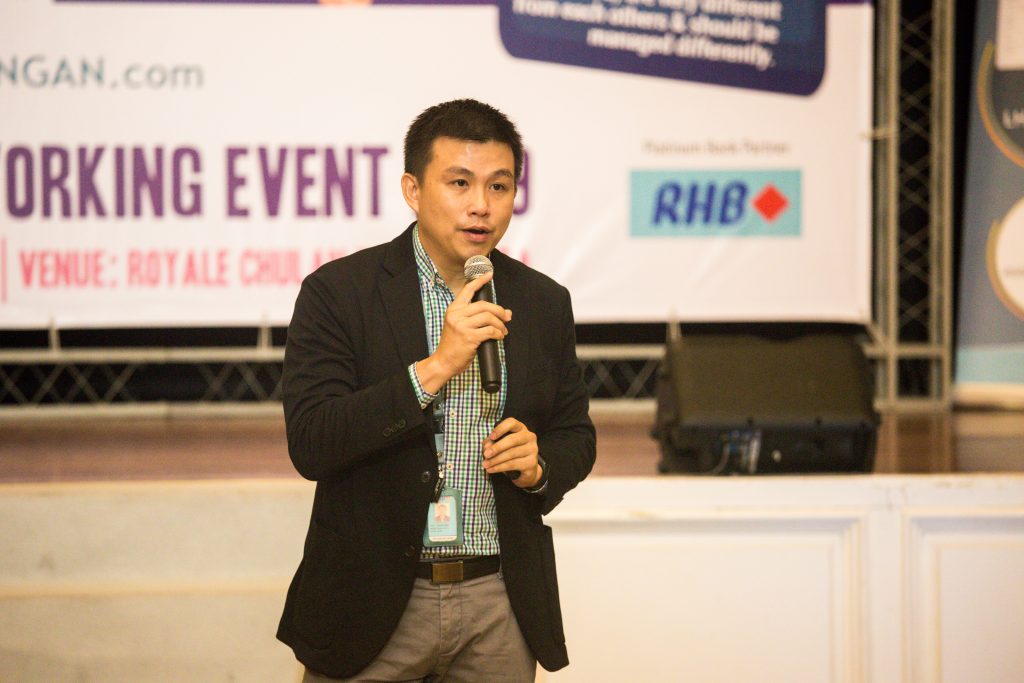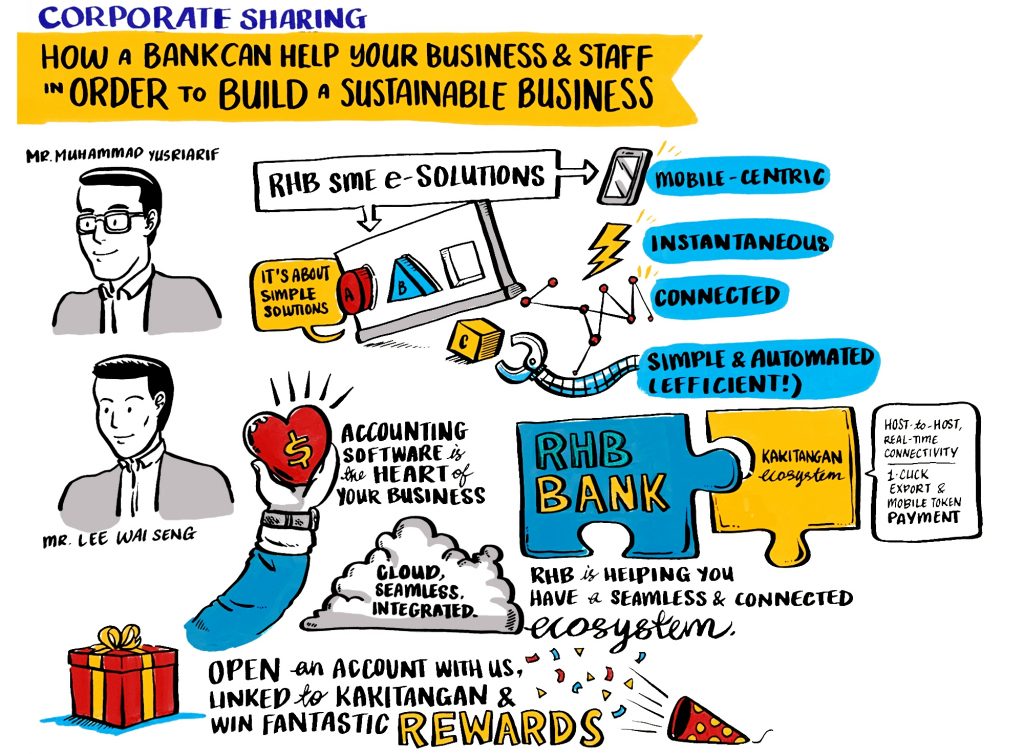 Up next was Professor Dr. Lee Kahling, who is well-known for her expertise in the area of Workforce and Talent Management. She spoke on 'Building a Talent Operating System' in order to attract and retain the best members of a multi-generational workforce. Her session is summarized in the infographic below.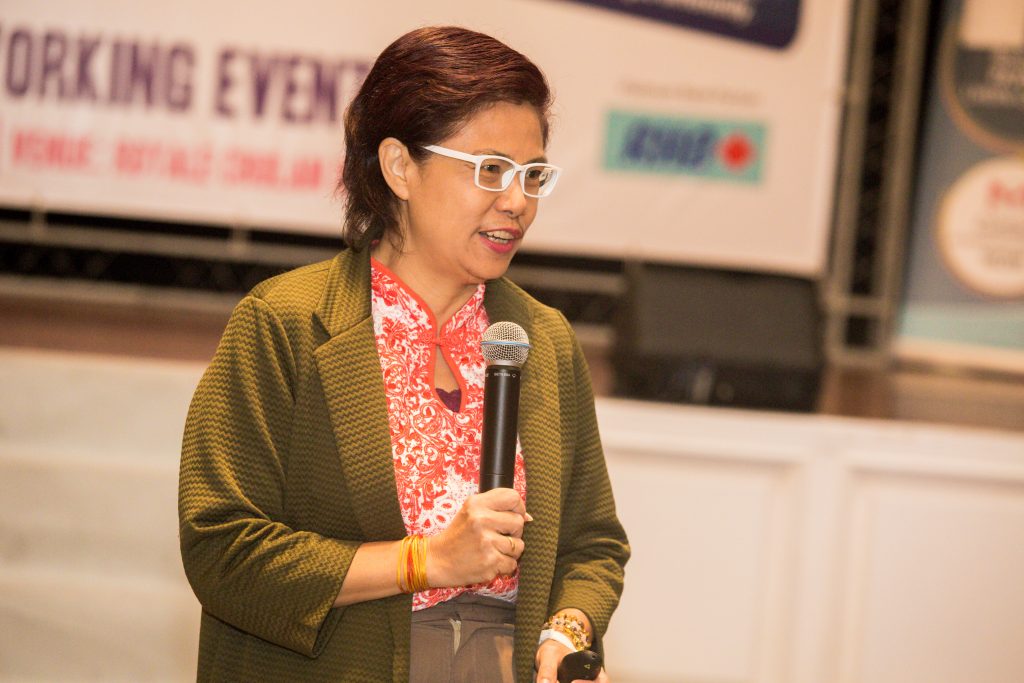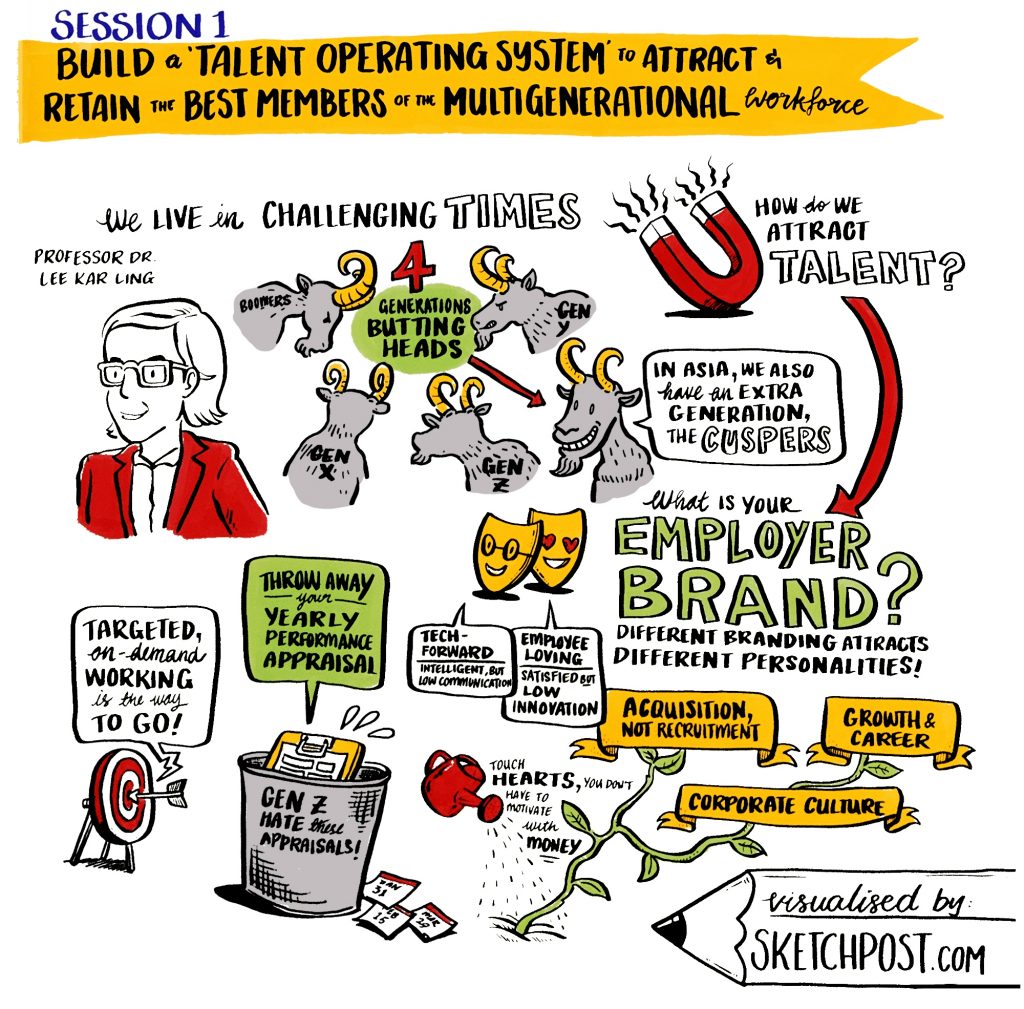 After a networking tea-break, we dived into the first panel session on the topic of "Managing Recruitment and Your Employees At Your Fast & Furious Growing Company" with Clarence Leong (CEO of EasyParcel), Chau Yap (Group Executive Chairman of YYC Group), and WheiMeng (CEO of SpeedRent). Ray Teng (Founder at MauKerja) served as the moderator.
The discussion involved:-
Defining a Fast & Furious Growing Company
Methodologies in Effective Hiring & Firing
Managing Typical Employee Issues
Cultivating Good Working Cultures
An infographic summarizing the panel can be found below.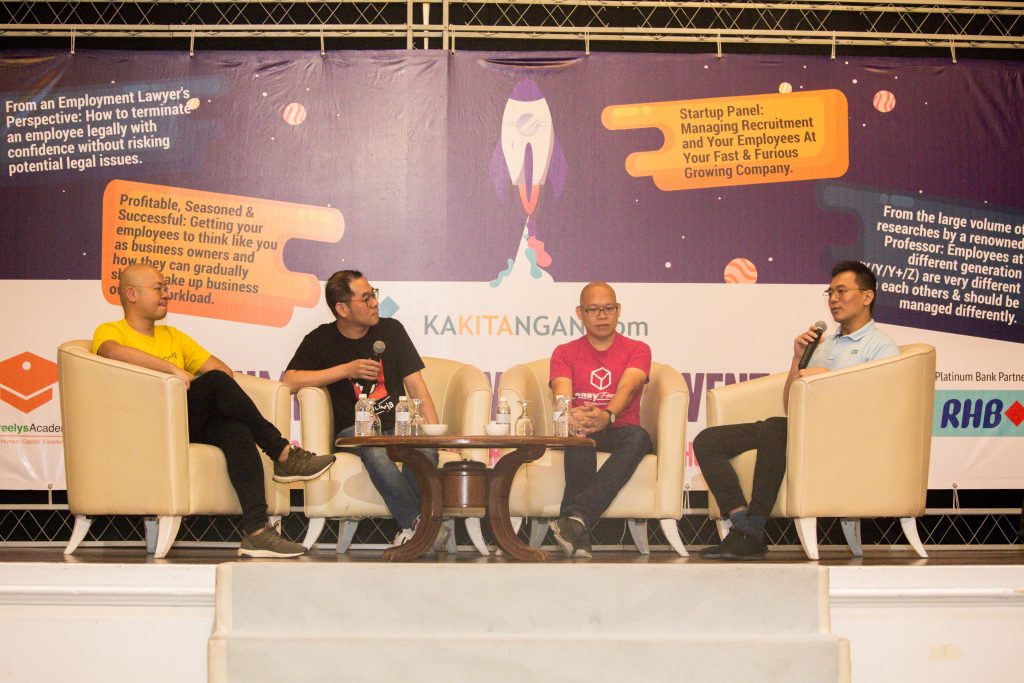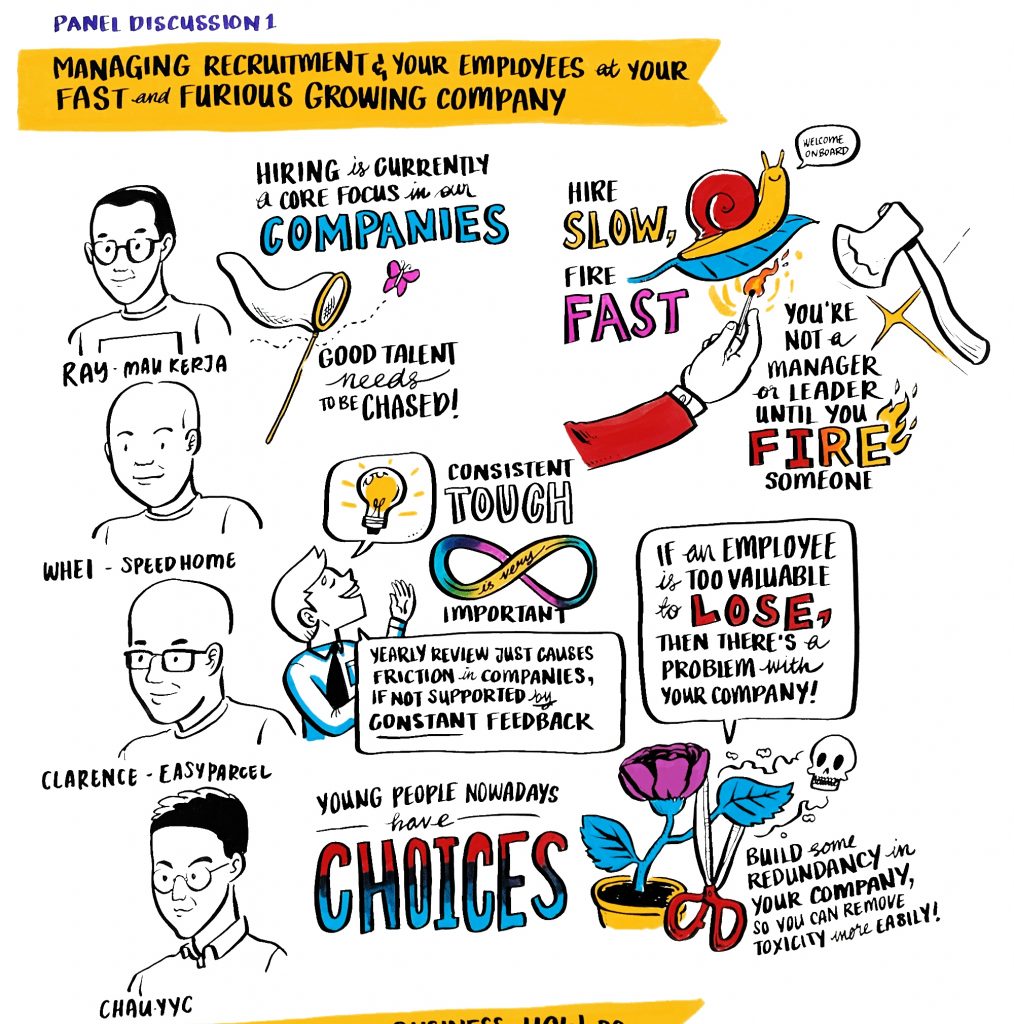 Just before the lunch, Tan Thiam Hock,the Creator of the SILKYGIRL brand shared his thoughts and experiences in a talk entitled 'Managing our team to move forward'.
The summary infographic of his talk can be found below.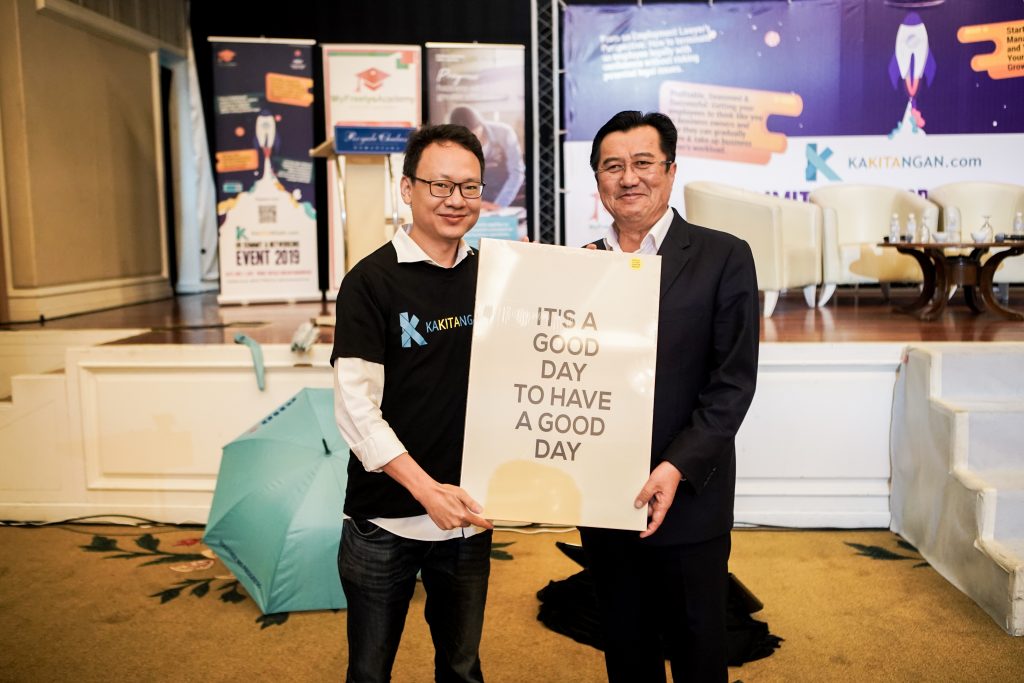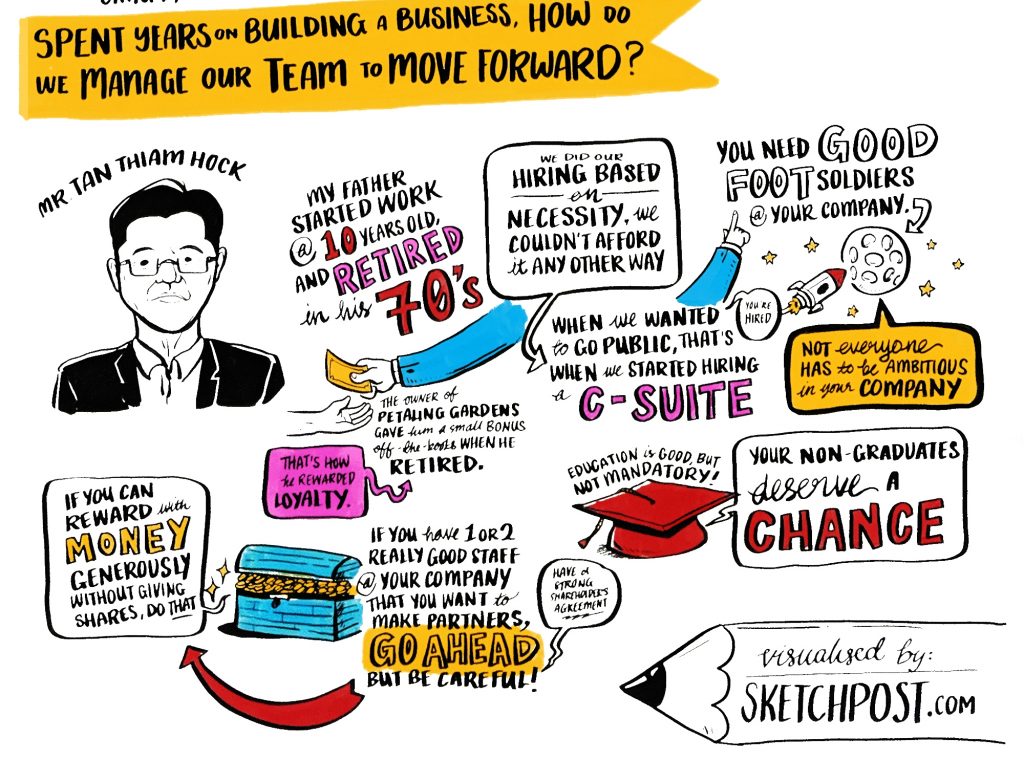 Post-lunch, we proceeded straight to the second Panel Discussion featuring 2 topics.
TOPIC #1: Defrauding Employers with Forged Medical Certificates – How can Employers Strike Back?
TOPIC #2: Employees are More Likely to Stay if They Like Their Health Plan, BUT Will Such Perks Burn More Holes in Employers' Pockets?
Members of the panel were Justin Lee (an Industrial Relations Lawyer), Leo Lee (CEO of Traitquest), Wilson Beh (Co-Founder of PolicyStreet) and Khor Xin Yun (CEO of Walnut Wellness) while YK Lai (Group Managing Director of HR Circle Group of Companies) served as moderator.
The summarized panel discussion can be found in the infographic by SketchPost below.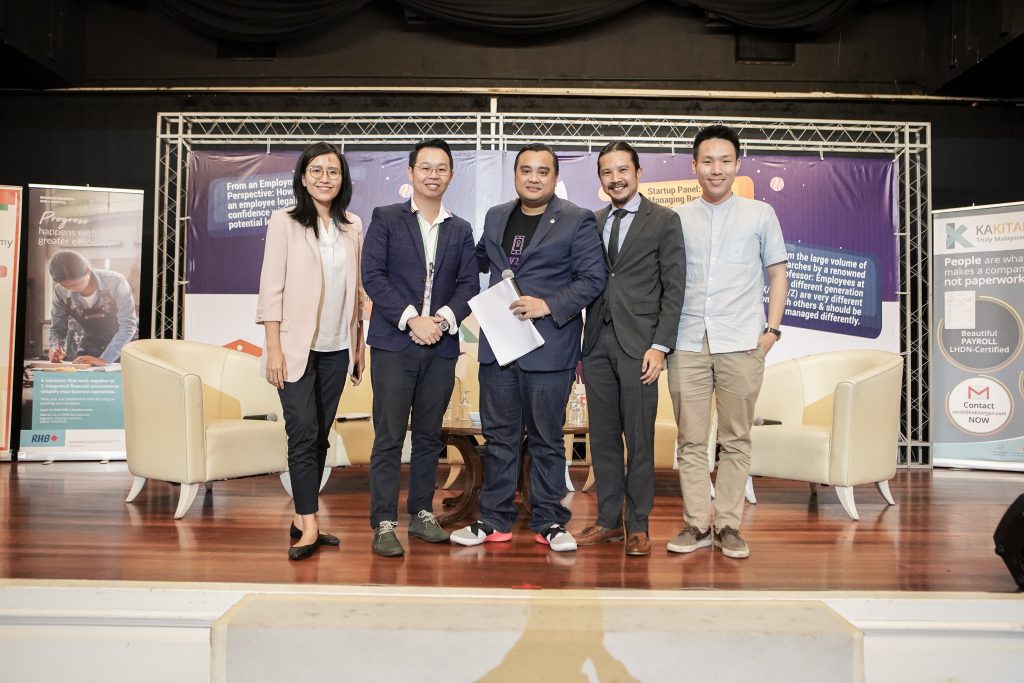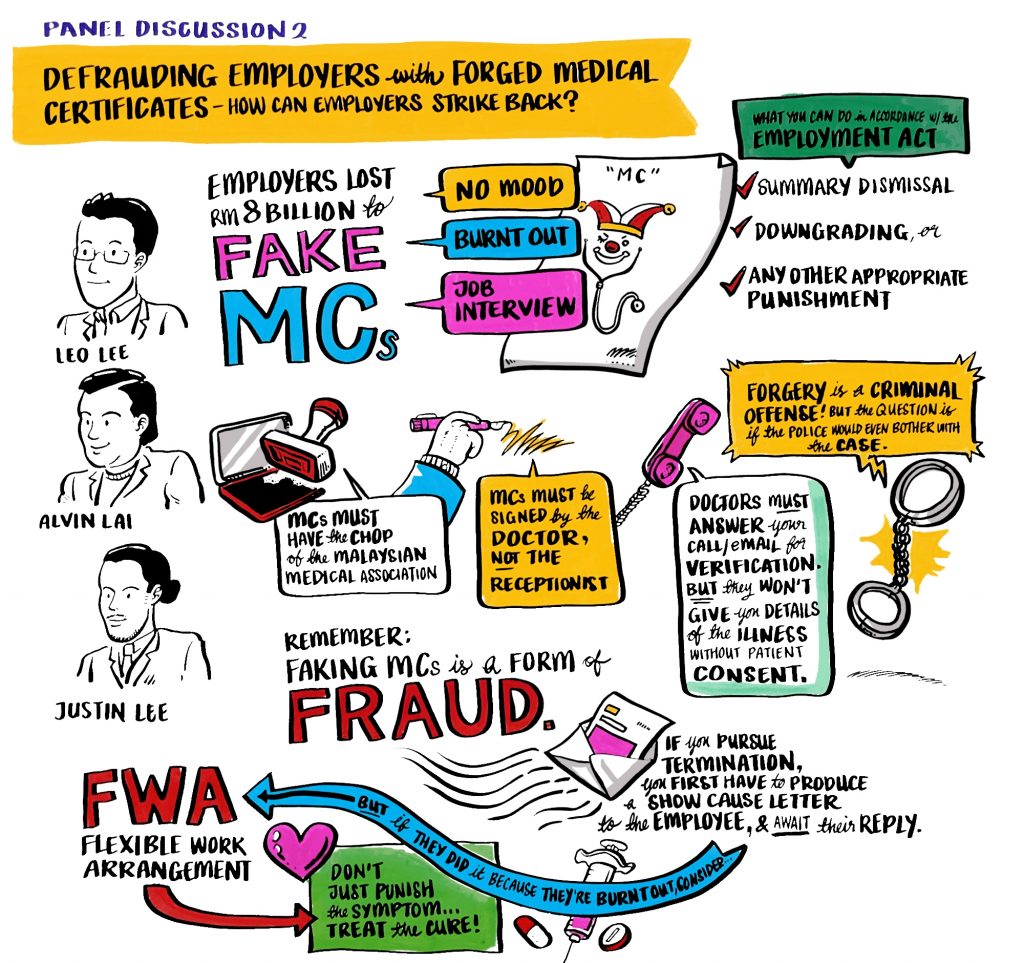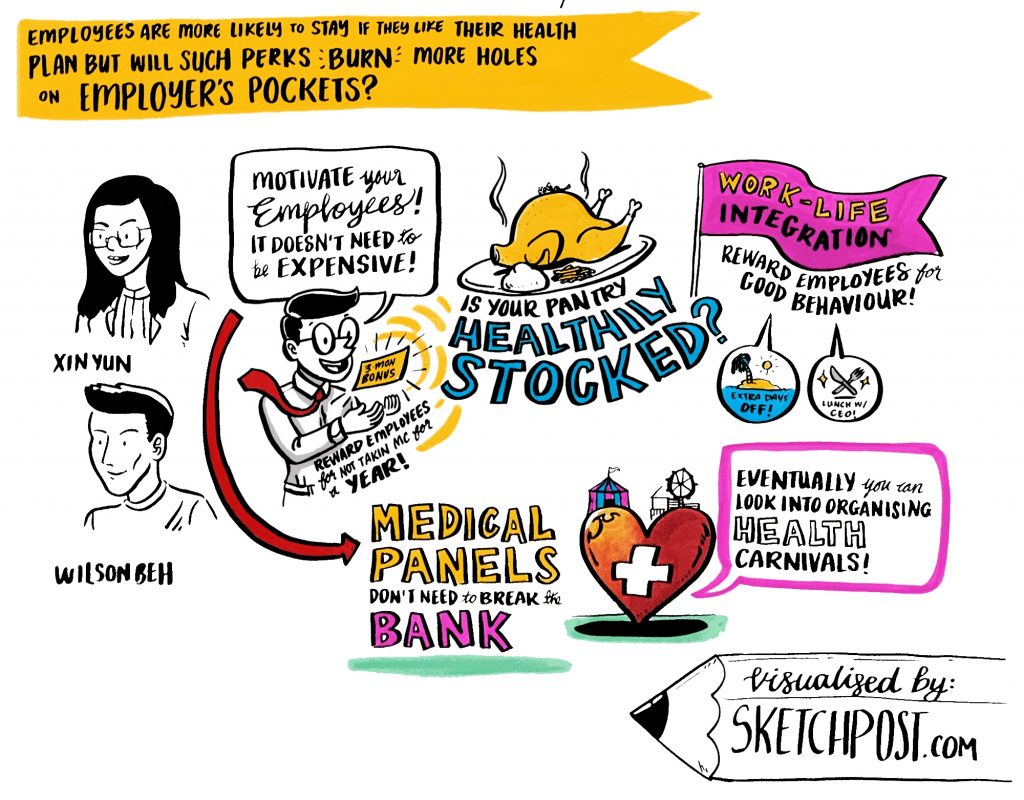 Next, Justin Lee, an experienced Industrial Relations Lawyer presented his paper entitled 'You're FIRED! How to Terminate an Employee Legally with Confidence in your Organization'.
Justin's session is summarized and recorded graphically by SketchPost below.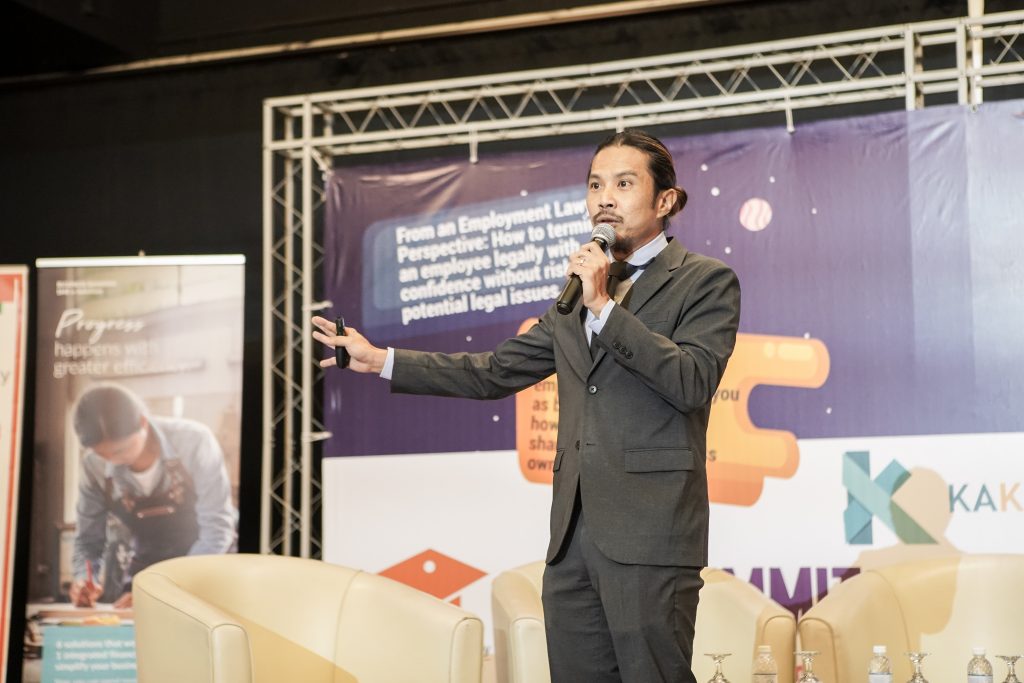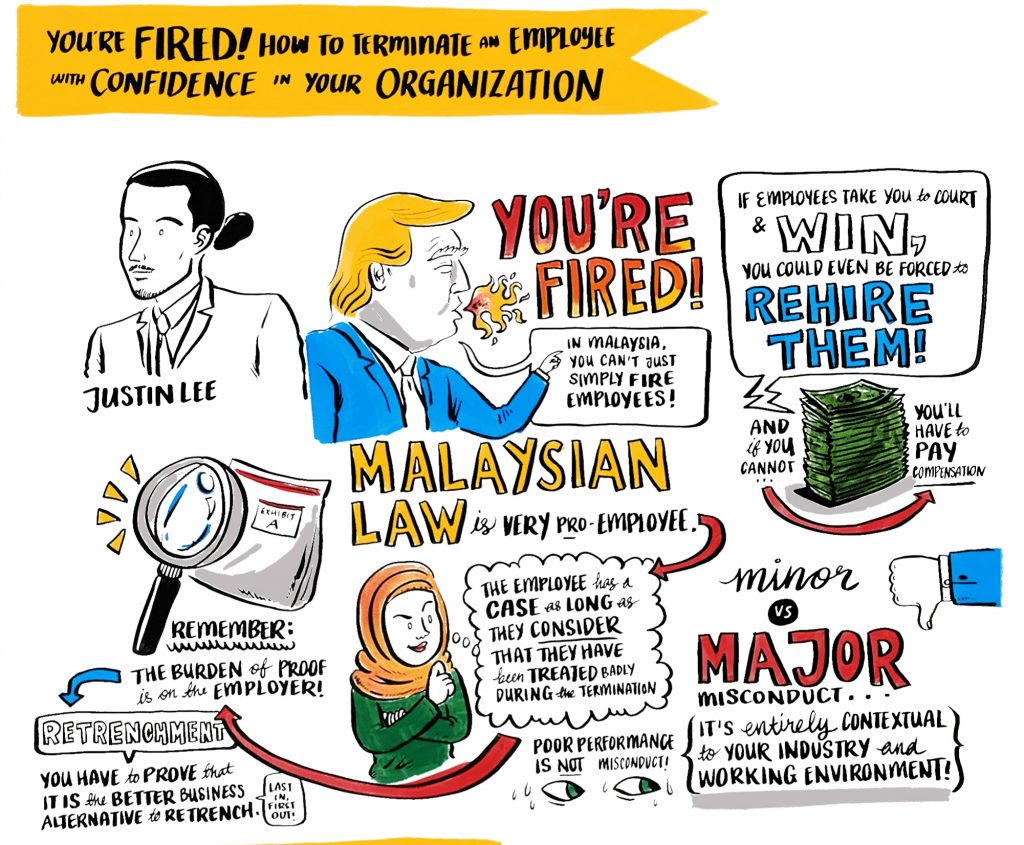 To wrap-up the summit, Malek Ali, Founder of popular business radio station BFM 89.9 shared his insight in a talk entitled "How to Get Your Employees to Think Like Owners".
The infographic below summarizes his insights on the topic.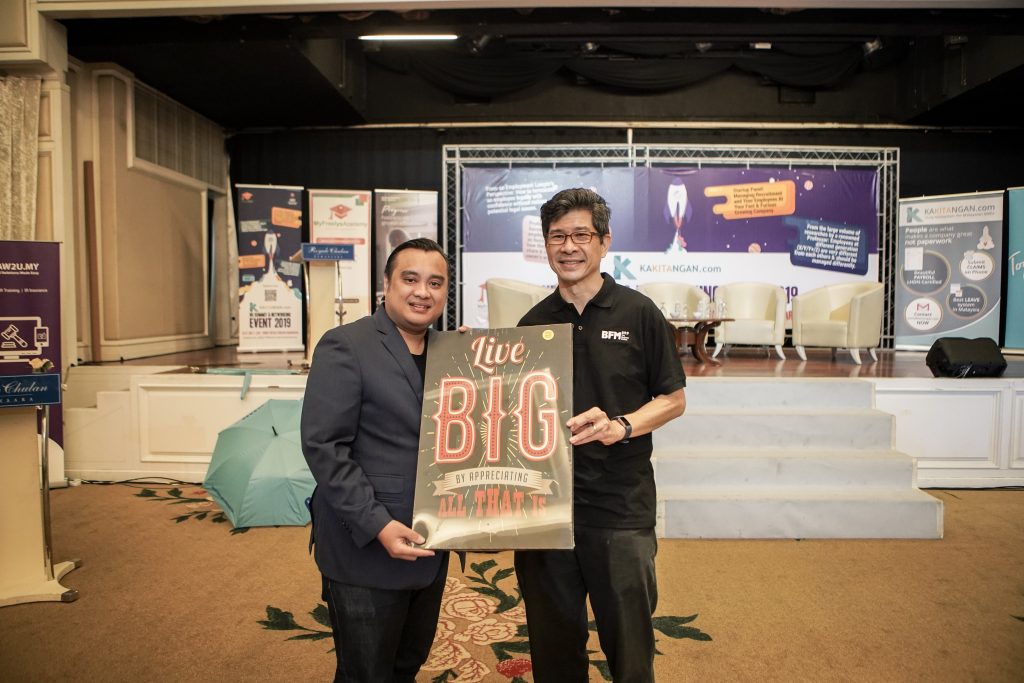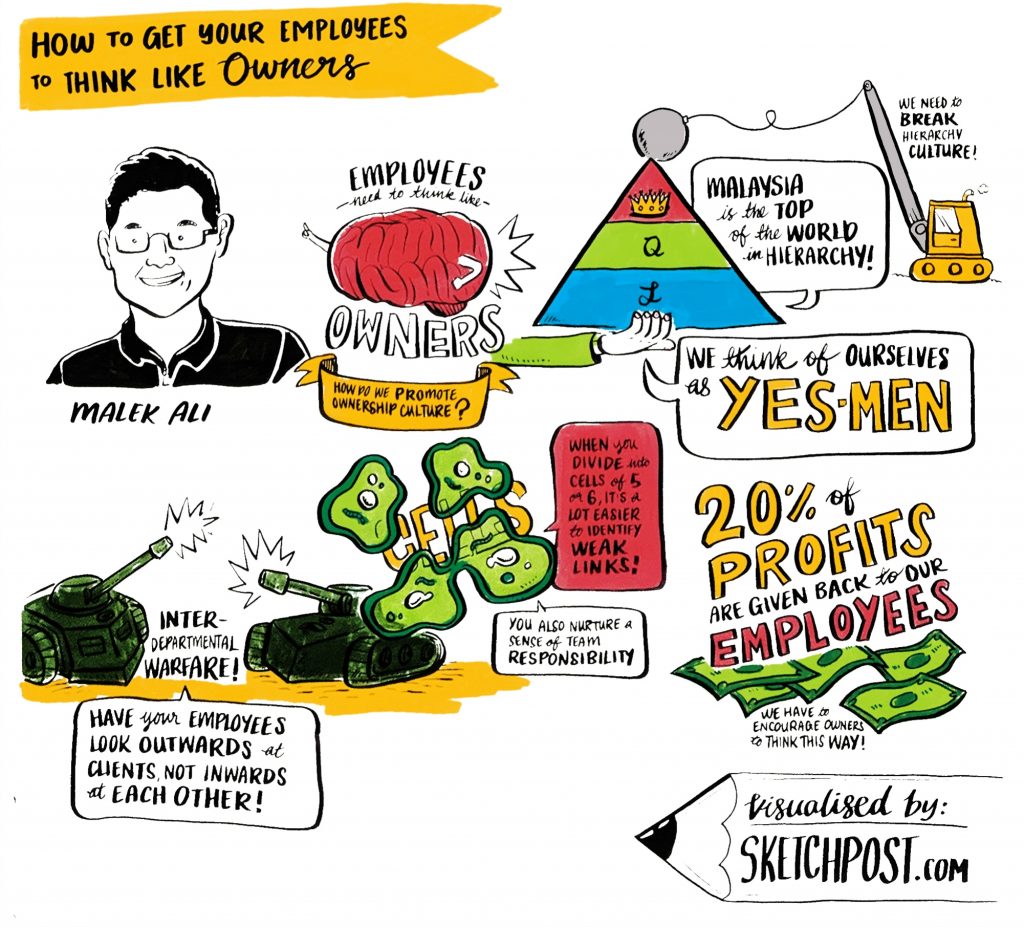 After the yearly tradition of Lucky Draws, Benny Woo KP (CEO of MyFreelys Academy) gave a closing speech, congratulated all the lucky draw winners and thanked all 200 delegates and exhibitors that came and made the HR Summit & Networking Event a huge success.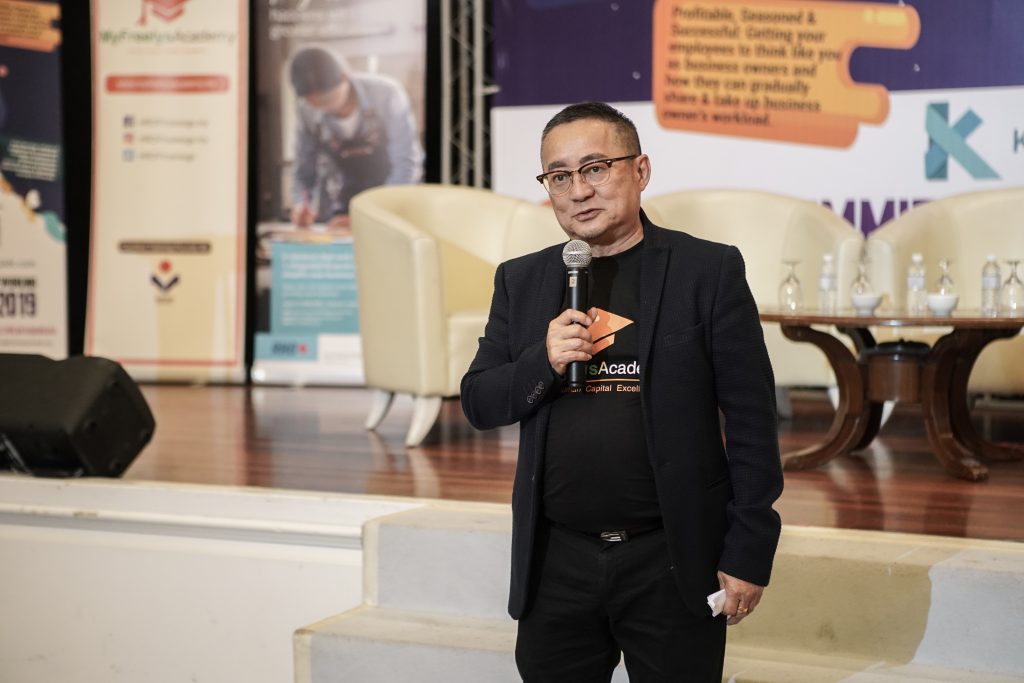 Kakitangan.com and MyFreelys Academy would like to thank our Platinum Partner, Collaboration Partners, Media Representatives and Exhibitors that made this HR Summit & Networking Event 2019 possible:
Platinum Bank Partner:

RHB Group

Collaboration Partners:

YYC Group
FAVE
StartupMamak
CGC
GKK
pitchIN / WTF Accelerator Community
Vistage
Ricebowl / MauKerja
Worq Community
Xero
MDEC /Alibaba eFounder & Netpreneur

 Exhibitors:

RHB Bank
Financio
The Malaysian Current Law Journal
Kakitangan.com
EST Advisory
IRLAW2U.my
Traitquest
MauKerja & RiceBowl
SpeedRent
Christy Ng
Xero
6Biz Sdn Bhd

Media:

HRnews.my
If you couldn't make it for this year, fret not as you can join us next year in 2020.
© Article by Danielle Cheng